Bio
Composer Randy Hathaway was raised in the Pacific Northwest of the United States and born in Yakima, Washington. His composition Indian Summer, from the Autumn suite, will be featured in the upcoming film Ingress by award-winning screenwriter Rachel Noll James.  Randy's music has also aired numerous times on radio programs across the US, Canada and the UK as well as concertized in the US, Canada, Sweden and Japan.
Within Randy's compositions, the inherent sceneries of North America speak clearly through his use of tonality, while musical languages of European and Latin origins are respectfully echoed. Editor Jesse Paliotto of The Guitar Journal compared Randy's compositions to the paintings of Winslow Homer and also quoted, "Like someone who speaks quietly and chooses their words carefully – you can't help but lean forward and hang on every sentence." 
Classical Guitar has been at the heart of Randy's compositions where he has paired it with Voice, Flute, Viola and English Horn. However, recent endeavors have included a Choral work (a cappella), String Quartet and Piano solo. Along with composing, Randy has been a performer, arranger, teacher, producer, director of a music school and a charity concert series. He has even enjoyed co-hosting a two-part radio program focused on some of his favorite 20th-century American composers. He is a recipient of grants from Artist Trust, Washington State Arts Commission and Jack Straw Cultural Center.  Randy is a graduated of Cornish College of the Arts. 
Randy's love of collaboration is immensely evident in his 2017 album release, Classical Guitar In America, where he recruited 18 musicians for the recording and 10 artists for the album and sheet music covers. In the Spring of 2022,  Randy began recording a new album which will include, choral a cappella, string quartet, piano solo, guitar with chamber orchestra and more.
Press
"

...Classical Guitar In America feels like an Opus. With a capitol "O". An artistic work on a large scale. It's serious, it's broad, it's meticulous. And it's a joy to know that there are artists conducting work with this type of quality and vision."
— The Guitar Journal - Jesse Paliotto
"

I absolutely love the tune "Garden." It has to be one of the most beautiful melodies I've ever heard and the girl's voice is that of an angel."
— Bill Piburn, Fingerstyle Guitar Journal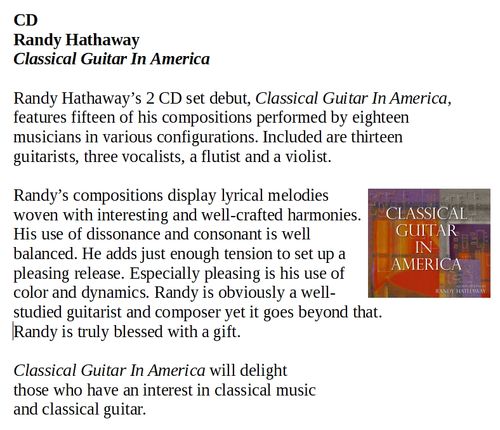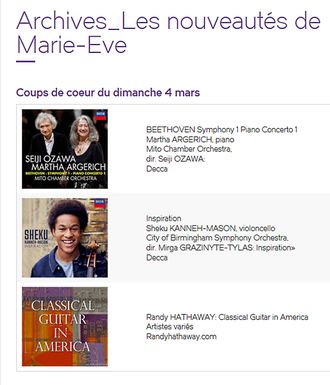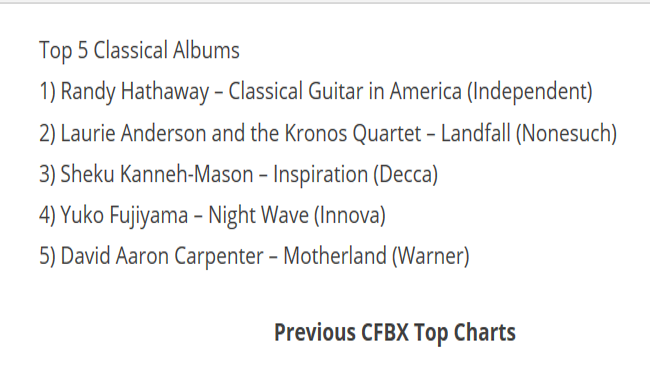 "

...the album features influences as diverse as chansons Parisiennes and contemporary American symphony. More then anything, Hathaway's compositions strike me as cinematic. Directors looking for a score could do worse than mine this album."
— Pat Muir, Yakima Herald-Republic